Sunset Dining on the Mountaintop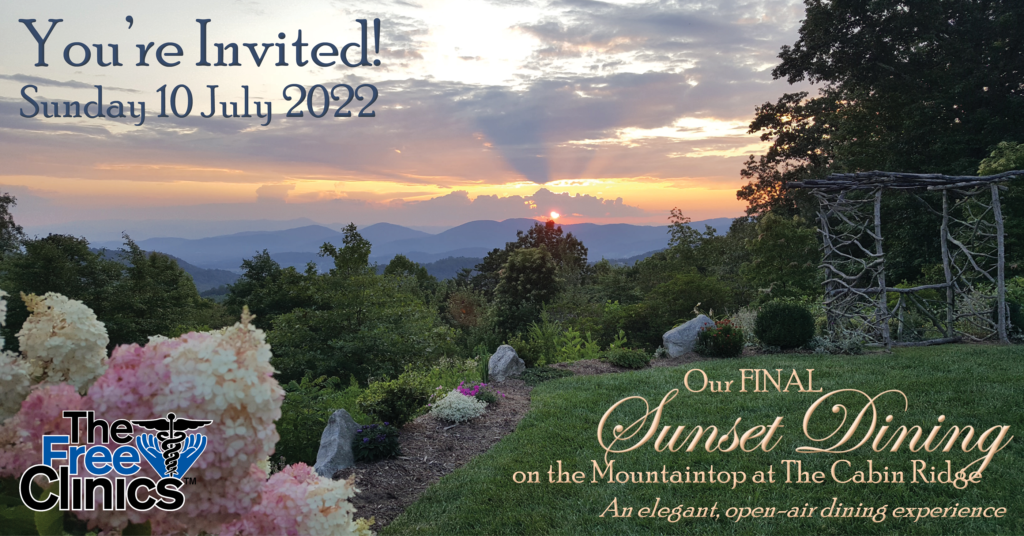 Our FINAL Sunset Dining on the Mountaintop at The Cabin Ridge
Sunday 10 July 2022 | 6:00-9:00PM
The Cabin Ridge | 323 Shadow Run Rd | Hendersonville
$250 per person | Tables & Sponsorships also available
RSVP by Friday July 1

Join us for our FINAL benefit event hosted by The Cabin Ridge to support The Free Clinics! Our generous hostess, Ms. Andy Owensby, will be retiring at the end of 2022, so please join us in wishing a fond farewell to this beautiful location!
Sunset Dining is a unique event in an unparalleled setting. The Cabin Ridge on top of Sugarloaf Mountain boasts stunning views of the surrounding mountains and Hendersonville skyline. You'll bask in the glow of the sunset while enjoying a gourmet farm-to-fork seated dinner, wine pairings, music and dancing in a beautiful open air pavilion.
Featuring a local multi-course menu by Food Experience of Asheville, expert wine pairings by Crate Wine Market & Project, and a special guest patient who will share their health journey with The Free Clinics.
Tickets are $250 per person. Full tables and sponsorships are also available

.
Attendance is limited. Guests will be assigned seating at tables of 8. Full tables of up to 8 guests may also be purchased to ensure your dining companions.
Please note that this event is held at a site with some uneven terrain between the welcome hour at the barn and dinner in the covered pavilion. Comfortable shoes are encouraged!
The Free Clinics and all event staff will follow NC state guidelines and CDC recommendations for public gatherings in place at the time of this event. The Free Clinics may also implement specific measures to reflect the state of public health in Henderson County. Changes may take place up to and including the day of the event.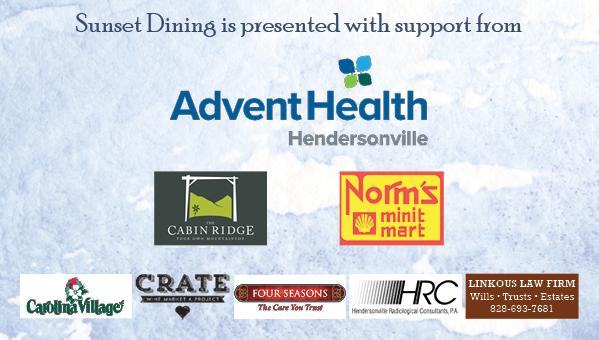 Sunset Dining is presented with support from these generous sponsors:
AdventHealth
The Cabin Ridge, Norm's Minit Mart
Carolina Village; Crate Wine Market & Project; Four Seasons Hospice; Hendersonville Radiological Consultants; Linkous Law Associates
MENU
Guests will enjoy the following locally-sourced selections with expert wine pairings:
(Menu selections and guest names must be submitted by Friday, July 1)
Passed Appetizers For Guest Arrival at Barn 6pm
Ceviche in Endive Boats
Lollipop Lamb Chops with Mint Chimichurri
Flat Breads with Fig Jam, Brie, & Prosciutto
Flat Breads with Fig Jam & Brie (vegetarian)
Mini Southern Tomato Pies (vegetarian)
Vegetable Pakoras (vegan)
Dinner in Pavilion 7-9pm
Omnivore
1st Course-Summer Caprese Salad with Burrata on Radicchio
2nd Course-Local Trout with Preserved Lemon Vinaigrette
3rd Course-Local Beef Tenderloin with Demi Glace; Garlic Mashed Potatoes; Masala Grilled Vegetables
OR
Vegetarian/Vegan
1st Course-Summer Tomato Salad on Radicchio
2nd Course-Smoked Cauliflower with Raisin Pesto
3rd Course-Grilled Portobello Steaks with Avocado Chimichurri; Olive Oil-Whipped Potatoes; Masala Grilled Vegetables

Choice of Dessert (selected in advance)
-Chocolate Pot De Crème (vegan)
-Crème Brûlée

For any questions about this event, please contact Sarah at sfriedell@thefreeclinics.org or 828-697-8422 ext. 131.