HealthWays
In 2017, TFC launched a new wellness-promoting program that we hope will continue to make Henderson and Polk Counties healthier places to live, work, learn, and play. Thanks to the support of the United Way of Henderson County and the Kate B. Reynolds Charitable Trust, TFC partnered with the Henderson County Department of Public Health to pilot the HealthWays program.
So, what is HealthWays?
Just as we recognize that 80% of what determines our health happens outside of the doctor's office, we also recognize that as a community, we have far more interactions and are influenced on a more regular basis by our peers than by health professionals.
HealthWays builds on and leverages existing social relationships and positive peer pressure to promote healthy living and alleviate epidemics of diabetes, heart disease, and obesity in our community.
In other words, HealthWays uses your existing networks (friends, coworkers, church members, neighbors) to support each other in making small lifestyle changes that lead to big, positive impacts on individual health. In similar programs across the world, as well as in neighboring rural Kentucky and Tennessee, 95% of participants had an improvement in at least one clinical health indicator such as body mass index, blood pressure, cholesterol, blood glucose, or waist circumference.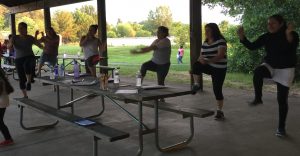 If you are interested in learning more about its origins and how HealthWays works, you can visit Microclinic International. TFC is the pilot site for this model in North Carolina. We are so grateful for the care and guidance of the Microclinics team as we partner to transform health and wellness as a community.
The HealthWays program brought expert, international trainers to Hendersonville to help us launch the novel new project. Now, we are looking for volunteers to help us expand its reach – both in English and Spanish – and help Henderson and Polk Counties become healthier communities.
Contact Ruth Ramirez at (828) 697-8422 or rramirez@thefreeclinics.org for more information on HealthWays and how you can participate. Participation is FREE and open to anyone throughout the community! Participants do not need to meet any eligibility guidelines as apply to our clinical and pharmacy services.
Healthways_info_flyer_draft2