Sunset Dining on the Mountaintop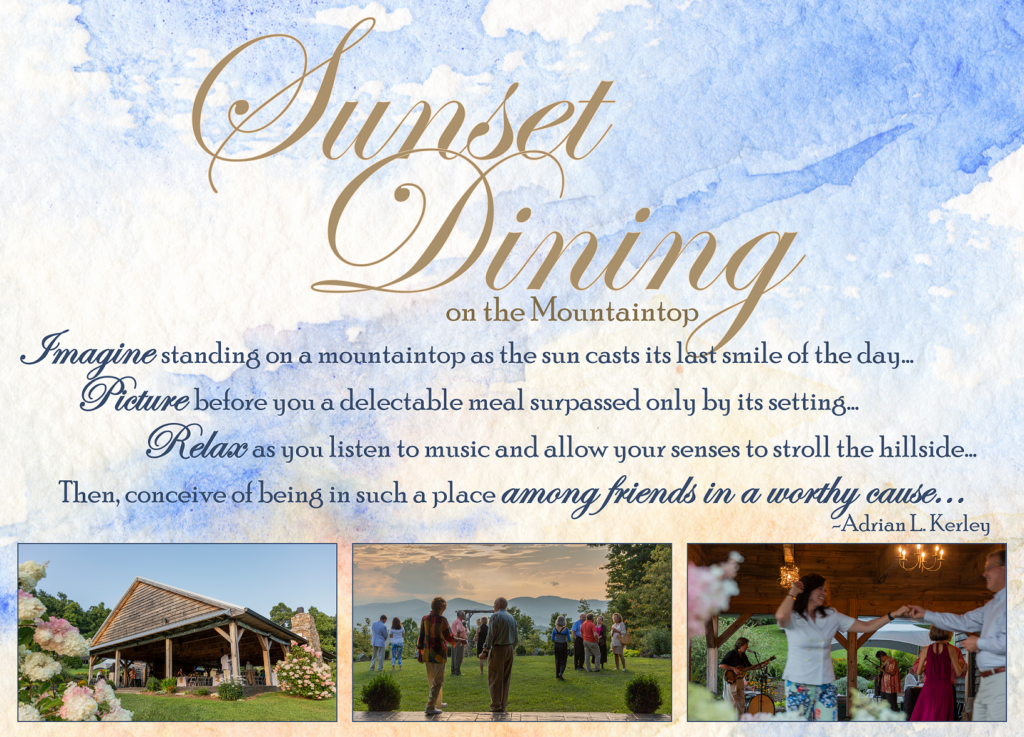 Sunday 28 July 2019 | 6:00–9:00pm
The Cabin Ridge
323 Shadow Run Rd | Hendersonville

About Sunset Dining
Sunset Dining is a unique event in an unparalleled setting. The Cabin Ridge on top of Sugarloaf Mountain boasts stunning views of the summer sunset over the mountains, which attendees can take in while enjoying a gourmet farm-to-fork seated dinner from Food Experience, wine pairings by Crate Wine Market & Project, live music from 3 Cool Cats and dancing in a beautiful open air pavilion. Check out photos from last year's event here: Sunset Dining 2018.
Funds raised will benefit The Free Clinics and our work on The Phoenix Project.
Due to the nature of this event, seating is limited and advance RSVP is required. Kindly respond by Monday, July 15.
Vegetarian/vegan menu available; please call 828-697-8422 to discuss any dietary requirements and menu selection.

Limited shuttle service will also be available, courtesy of Shuler Funeral Home and Carolina Village; please call 828-697-8422 to schedule.
We invite your sponsorship of Sunset Dining on the Mountaintop. Sponsors at Leader level & up will be recognized by signage. Sponsors at Champion level & up will have names presented on tables.
Ticket & Sponsorship Pricing
Individual ticket: $200 per person
Champion: $1,000 – 2 tickets
Leader: $2,000 – 4 tickets
Visionary: $3,500 – 8 tickets
Pioneer: $7,500 – 12 tickets