Do you have any idea the impact you can make?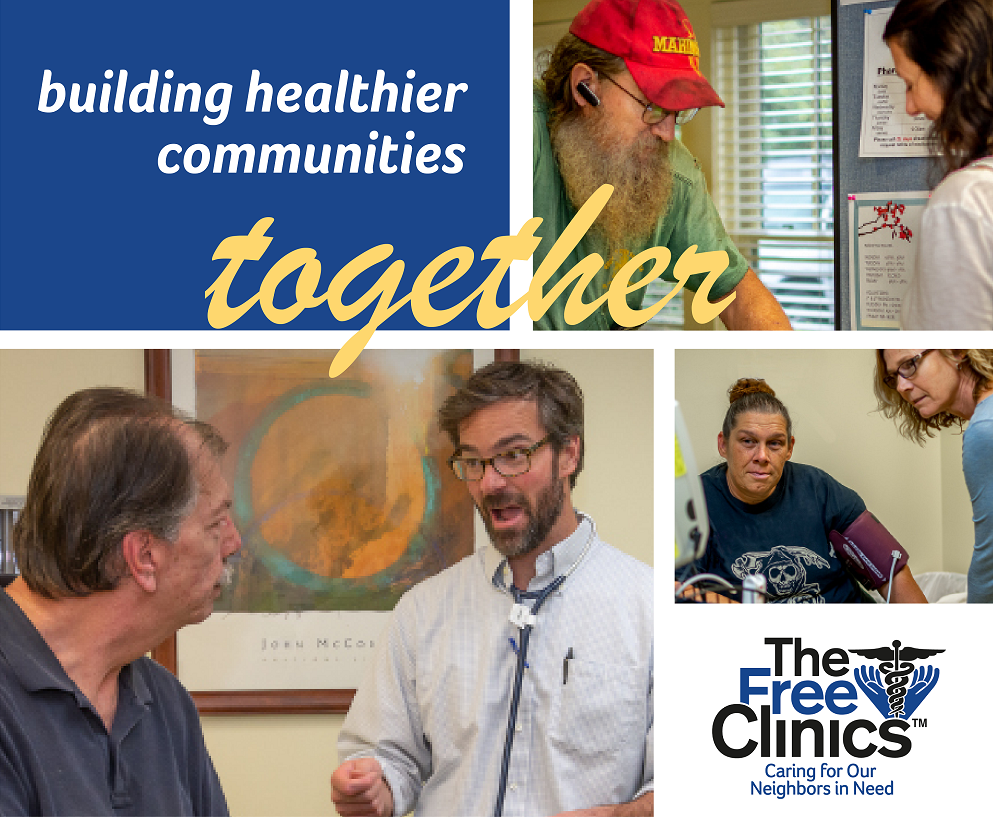 15,282 people showed up at our door, called on the phone, or reached out in need with nowhere else to go. Our community of donors and volunteers rallied to give them hope, health, and healing. With your gift today, you will directly impact our most vulnerable community members in Henderson and Polk Counties.
With your help, we will provide patients with direct support from caring nurses, physicians, occupational therapists, and mental health specialists. Between our medical, eye, psychiatric, and endocrine clinics; chronic care coordination; community health projects; and Bridges to Health program; The Free Clinics provided over 34,200 patient encounters last year and we expect more in the coming year.
With your help, we will refurbish and deliver bicycles to hard-working adults who are unable to get to the doctor, grocery stores for healthy food, or their jobs—we assisted 35 people last year alone.
With your help, we will dispense medications that stabilize blood pressure, lower blood sugar, and treat mental illness. We dispensed over 15,000 medications last year—often making the difference between people being able to live full, productive lives or struggling with compromised health.
Today I ask that you help us continue this work. Will you consider a gift—of any amount that feels right to you—to support the health of our neighbors in need?
We have amazing things on the horizon that your contributions will help fund. We are collaborating with our community partners to open new Bridges to Health groups, including one at the Henderson County Detention Center. The Free Clinics, Safelight, and Park Ridge Health have teamed up to provide revolutionary medical and psychiatric support for survivors of sexual assault, domestic violence, or human trafficking.
As fiscal agent for HopeRX, TFC just won a federal grant to expand substance misuse prevention efforts in Henderson County. In addition, as an active member of the Henderson County Substance Abuse Task Force, I am honored to take part in the development of tangible new resources to address these very challenging issues.
Our time-tested and innovative models of care are being recognized nationally for their impact and effectiveness, making The Free Clinics both a true model of excellence and good steward of your hard-earned resources.
Our community is the healthiest when we come together to care for each other, especially our most vulnerable. Through your generosity, the dedication of our 224 volunteers, and with the trust of our 175 community partners, we will continue to make a big dent.

Last year alone we leveraged our relationships and collaborative model of service to provide $8.18 of care for every $1.00 invested.  That means that for each dollar you contribute, we multiply it eightfold! We hope to do even more this year, but we need you to be a part of our story.
As you make your charitable contributions at end of year, please consider making a gift to The Free Clinics. Your tax-deductible donation of any size will be not only appreciated, but life-saving.
Sincerely,
Judith Long,
Executive Director
Please consider joining the The Free Clinics community by making a generous contribution today.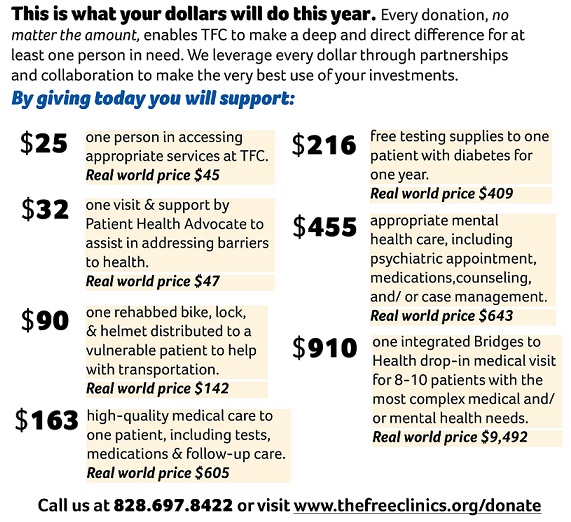 Or, mail your tax-deductible gift to:
The Free Clinics
841 Case Street
Hendersonville, NC 28792

Monday, December 31 is the last day for your 2018 tax-deductible donations to be postmarked!

For more information about making a contribution of stocks or securities, please contact Judith Long, Executive Director, at 828.697.8422.