October

Volunteer Information Session
Thursday, October 25, 2018 from 10:00-11:00am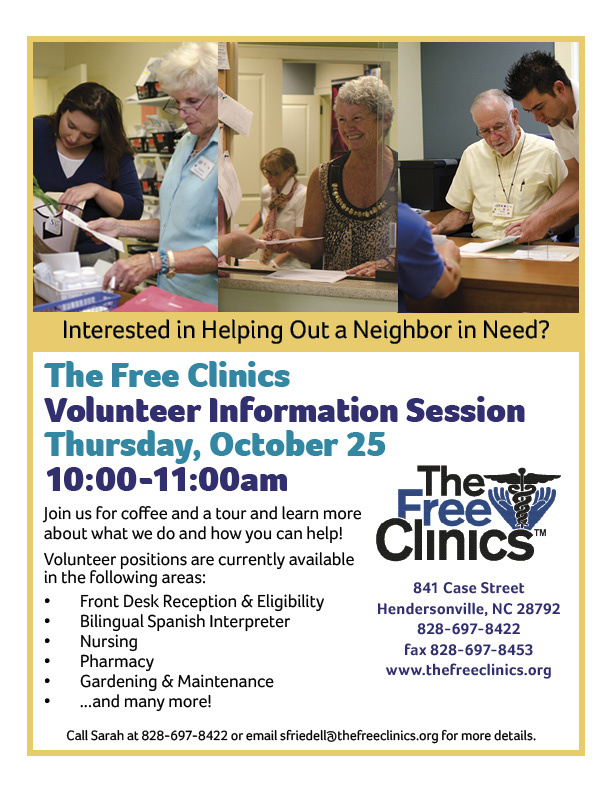 Did you know that you don't need a medical background to volunteer at The Free Clinics?

In addition to our clinical volunteers, many opportunities exist for volunteers with skills as varied as front desk reception, building maintenance, Spanish interpreting, gardening, bicycle repair, and more!  

Join us for coffee and tea on Thursday, October 25th at 10:00am to learn more about available volunteer opportunities at The Free Clinics!   We will present a brief overview of all of the positions and duties that need volunteer assistance to keep The Free Clinics operational, and take you on a short tour of our facility.  

The Free Clinics would not be able to continue in our mission of providing access to quality healthcare to our neighbors in need without volunteers like you. Now is a great time to find out how you can help! Plan to attend the information session, or call Sarah at 828-697-8422 or email sfriedell@thefreeclinics.org for more information on volunteer opportunities or to apply.
---
Jim's Party Splash: Take the Plunge!
NEW DATE: Sunday, OCTOBER 7, 2018 from 1:00-4:00pm

We regret to announce that Sunday's event has been canceled. When we changed dates due to the threat of Hurricane Florence, unfortunately that created too many scheduling conflicts for our star Plungees. Our plan is to launch this event next August with a big splash! Please stay tuned for information about upcoming events at https://www.thefreeclinics.org/events.


---
Past Events
September


Free Wellness Screening and Used Bike Collection
Monday, September 24, 2018 from 12:00-4:00pm
In partnership with Park Ridge Health and WNCAP, The Free Clinics will be providing free wellness screenings for the following:
-Bone density
-PSA (prostate)
-Blood pressure
-Blood glucose
-Hepatitis C & HIV
We will also be accepting bicycle donations for our Bikes For Life program.
Additionally, Voter Registration will be available from 9am-3pm.
For any questions, please call 828-697-8422.

Sunday, July 29 from 6:00-9:00pm
Click the link above to visit the event site and see photos from the evening's festivities! (photo credits to Derek Coté)
Thursday, July 19 from 4:00-9:00pm
You may have had a taste of Farm Burger's delectable treats at Salon, but have you had one of their melt-in-your-mouth burgers? Farm Burger South Asheville is teaming up with The Free Clinics for a one-night fundraiser to support the health of our most vulnerable neighbors. 10% of ALL dinner proceeds that evening will come back to the Free Clinics, so come on out and join us for a bite the evening of July 19th! (Check out their menu here.)
June

Sunday, June 10 from 12:30-3:30pm
You may call (828) 697-8422 for more information.
April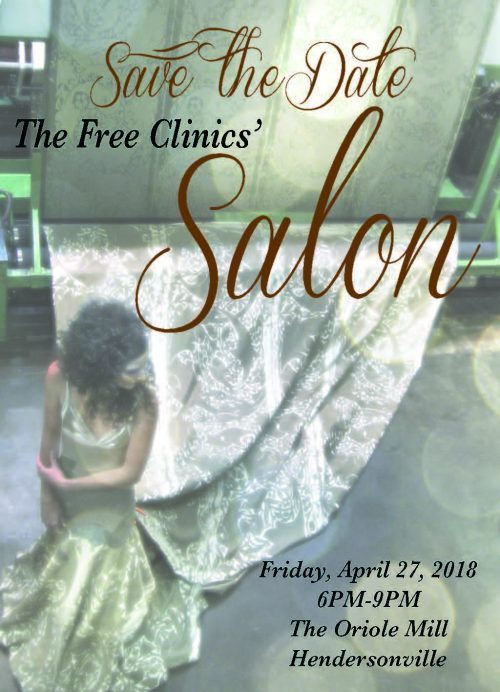 Friday, April 27 from 6:00-9:00pm      
Click the link above to visit the event site and see photos from our spectacular spring Salon! (photo credits to Robin Reed)