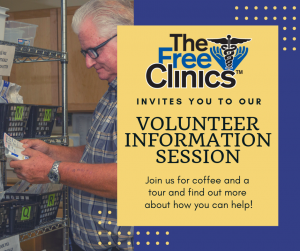 Join us for our next Volunteer Information Session at 3:00pm on Thursday, July 18th!
Over 270 active volunteers support our small staff and enable TFC to provide over 19,500 patient encounters every year. Volunteers are the foundation of TFC; volunteers are the reason that TFC exists; volunteers are the reason TFC is able to provide high-quality medical, psychiatric, and pharmaceutical care to patients. Volunteers are the reason that TFC is able to offer medically indigent patients care that they would not otherwise receive.
Volunteers at TFC range from clinicians (doctors, psychiatrists, nurse practitioners, nurses, physical therapists, pharmacists, nutritionists) to lay people. Volunteers provide the clinical visits; volunteers answer the phones; volunteers conduct eligibility screenings; volunteers translate for Spanish-speaking patients. Some volunteers work once a week, while others work once a month, quarterly, or on certain occasions.
TFC invites you to consider joining our team as a volunteer! Please contact our Volunteer Coordinator, for more information.
Our current volunteer needs as of June/July 2019 include Data Entry (monthly), Pharmacy Assistant (Tuesday evenings, weekly + floating fill-in), Nurse/LPN/MA/EMT (Tuesday evenings, weekly to monthly), Behavioral Health Specialist/Counselor (varies), Bilingual Spanish Interpreter (1st &/or 3rd Monday afternoon/evening), Garden Worker (varies), Building/Maintenance Worker (varies), HealthWays Co-Facilitator (varies), Front Desk/Reception (Monday & Tuesday afternoons, weekly + floating fill-in).
Check out all of our volunteer positions below, and download a volunteer application: